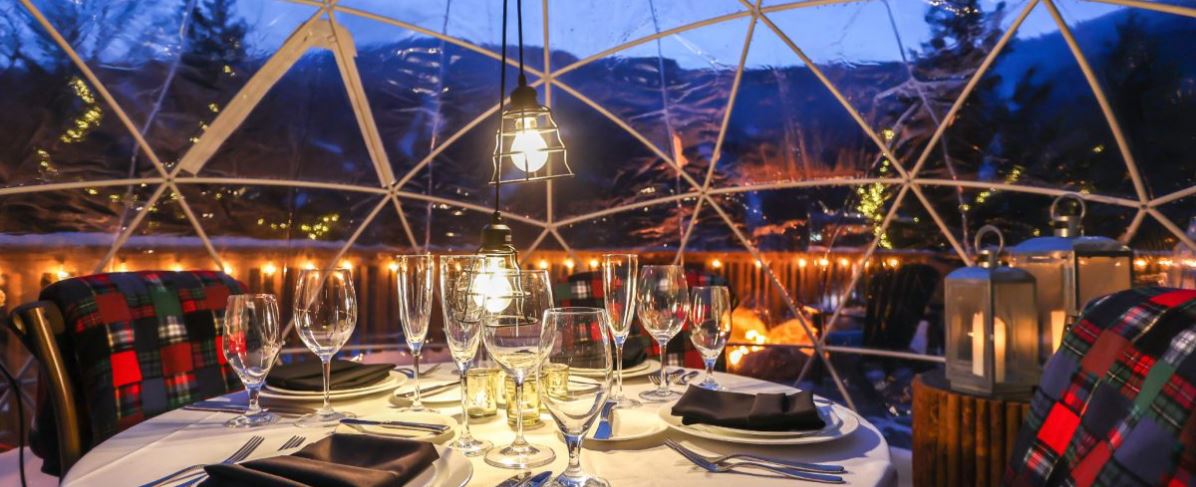 Beat the winter blues – Dine in a magical private heated igloo that is toasty warm with selected friends and family
The perfect place to escape from winter's chilly air is an indoor dining heated igloo. Here are 13 different igloo restaurants in Connecticut and New York where you can enjoy cozy warmth while eating your fill of tasty food!
If you want to ensure availability, call well in advance for reservations. There is generally an additional fee and length of stay required depending on the time requested at your desired location.
Connecticut Igloos
Igloos in Stamford, CT
Sign Of The Whale
6 Harbor Point Road, Stamford, CT 06902
203-883-8282
https://www.signofthewhalect.com/igloos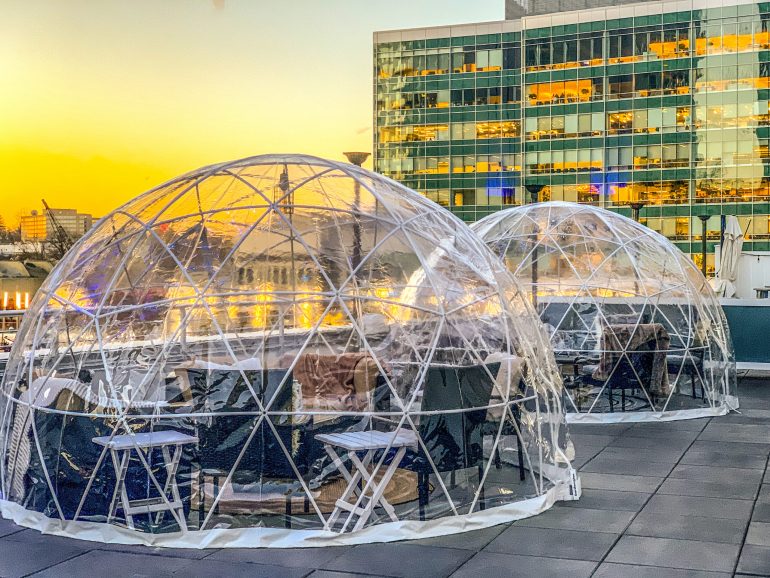 The Sign of the Whale offers a cozy place to enjoy some quality time. You'll feel like royalty lounging on their rooftop igloos or make romantic plans for your next date here! Two-hour time slot reservations are available for parties up to eight people, and there's a minimum $50 food and drink spend per person.
The Wheel
4 Star Point Suite 101, Stamford, CT 06902
475-270-1300
https://www.thevillagewheel.com/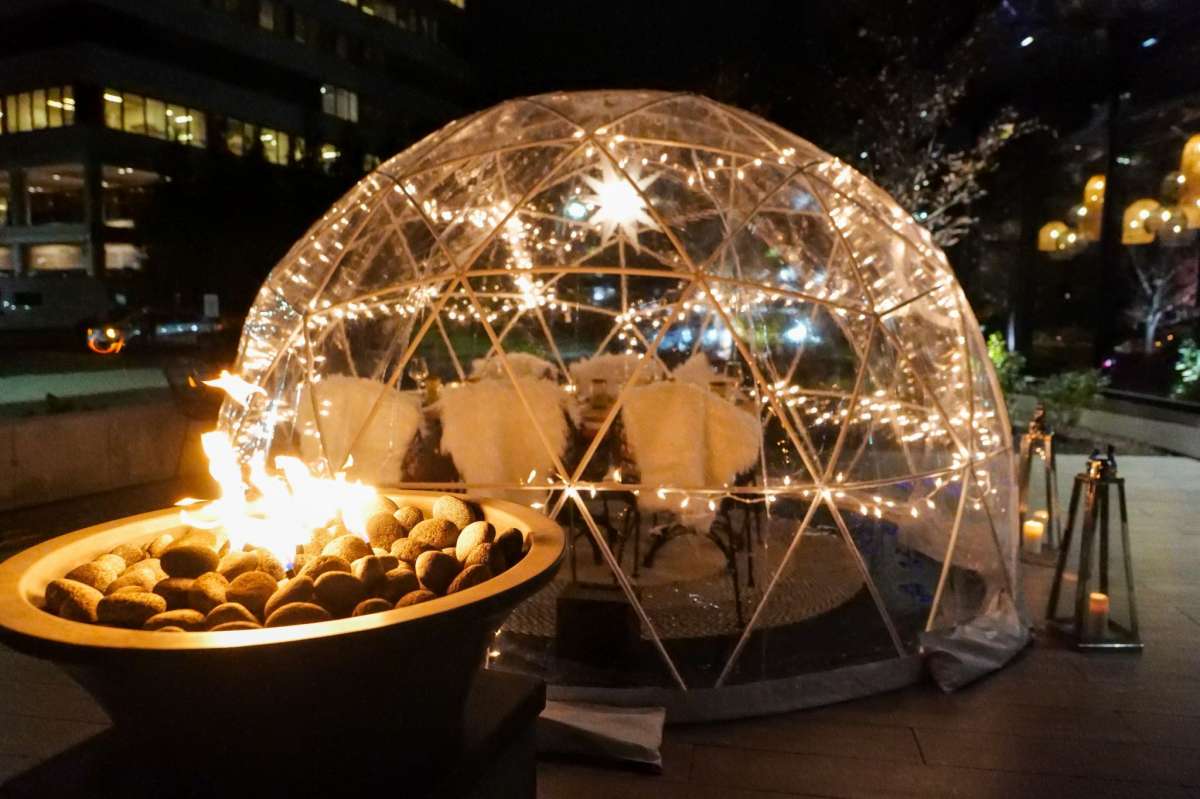 The Wheel is running a special for two hours of VIP treatment, complete with fondue and s'mores. They're offering the chance to custom tailor your own beer at CiscoBrewers! A $25 igloo fee per person will be added onto their check on top so make sure you book now before these slots fill up fast!
Igloos in Westport, CT
Rizzuto's Oyster Bar & Restaurant
540 Riverside Ave, Westport, CT 06880
203-221-1002
https://www.rizzutos.com/locations/westport/menu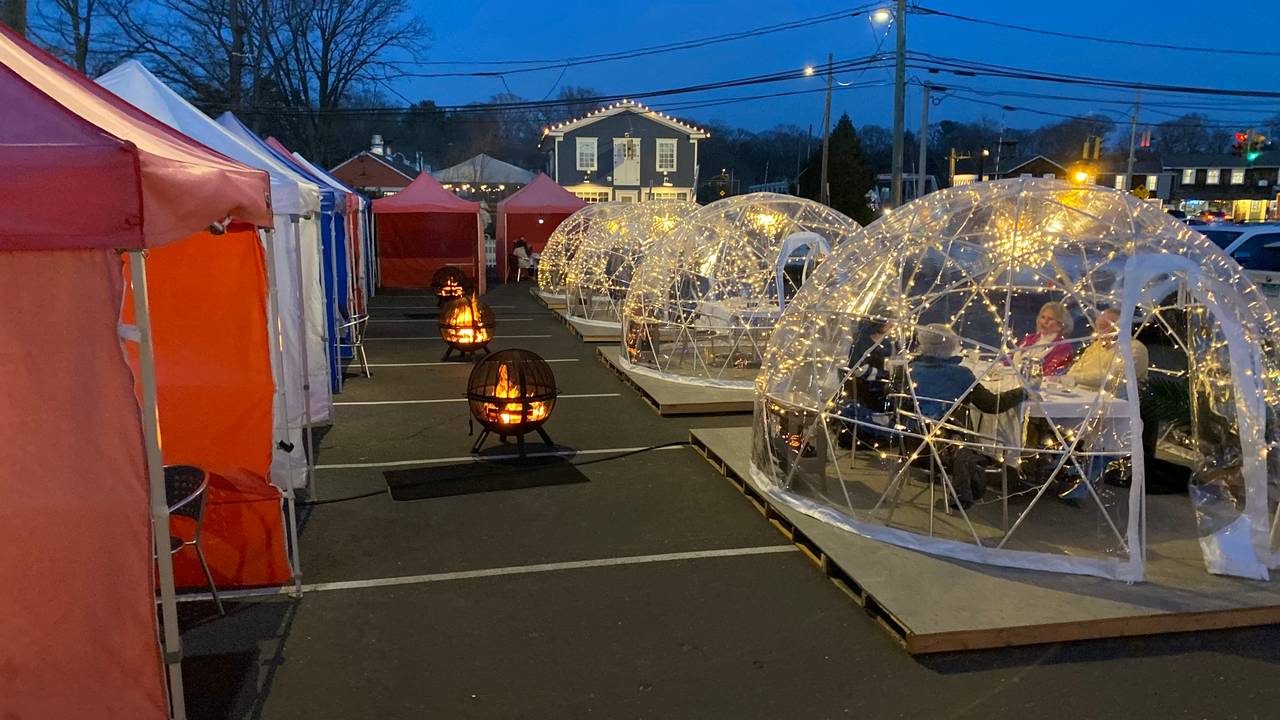 Rizzuto's has brought back its heated igloo seating for the winter, offering 10 structures that seat up to eight guests comfortably. To book, choose "outdoor seating" on the restaurant's OpenTable page and be sure not wait too long because they go fast! If you're looking forward to enjoying an outdoor igloo meal during these cold months in 2022 book about two weeks out.
Ski Resort Igloos in Middlefield, Connecticut
Fire at the Ridge – At Powder Ridge Mountain Park
99 Powder Hill Rd, Middlefield, CT 06455
(860) 852-5444
https://fireattheridge.com/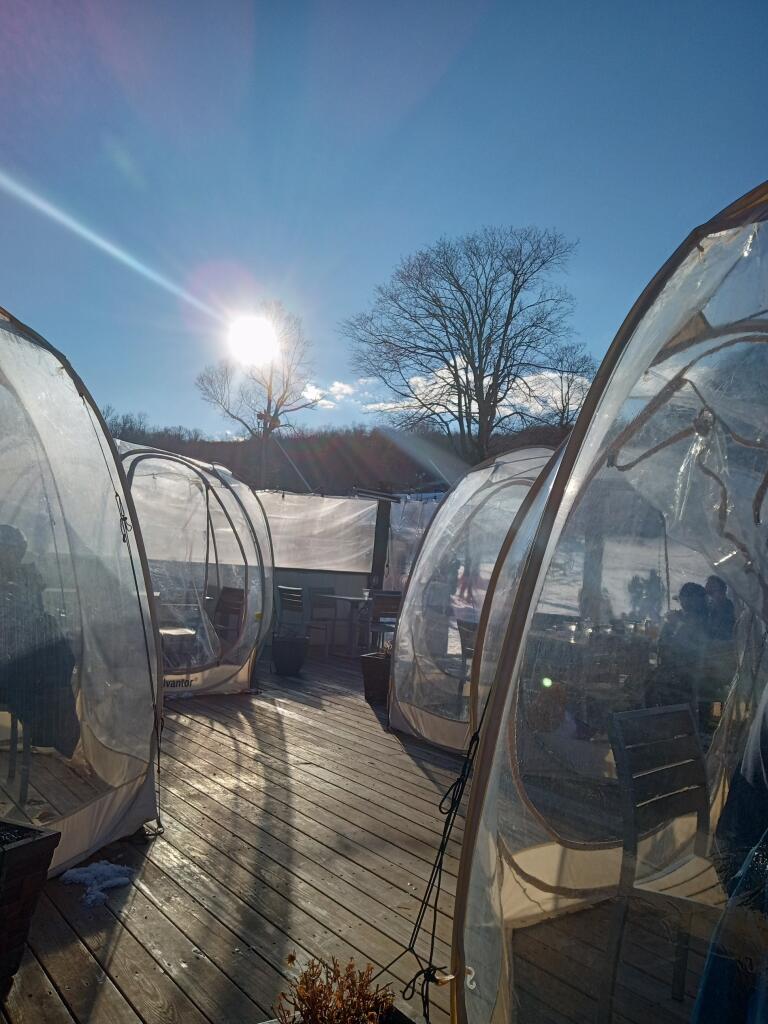 The food at Fire at The Ridge is delicious and the service keeps you coming back for more! Inside the warmth of your heated personal igloo, you can enjoy yummy appetizers and an incredible view watching skiers and snowboarders ski down the slopes.
Igloos in Danbury, CT
Puerto Vallarta Danbury
98 Newtown Rd, Danbury, CT 06810
(203) 826-3977
http://puertovallartausa.com/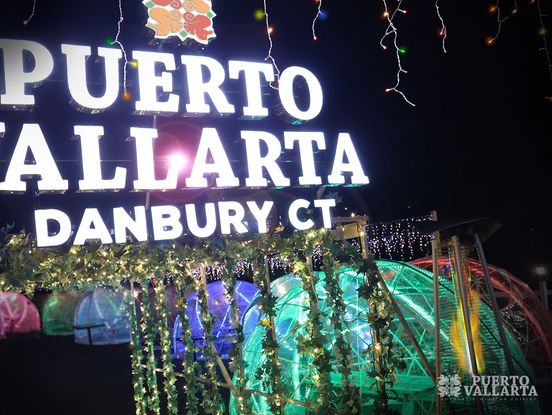 If you're looking to spice up your night, then try one of Puerto Vallarta Danbury's heated igloos. The pop-up structures can house a minimum of four and maximum of eight guests! Your party will enjoy dishes like tacos or fajitas with a 90-minute dining limit, and reservations are required.
Igloos in New Haven, CT
116 Crown
116 Crown St, New Haven, CT — 06511
203-777-3116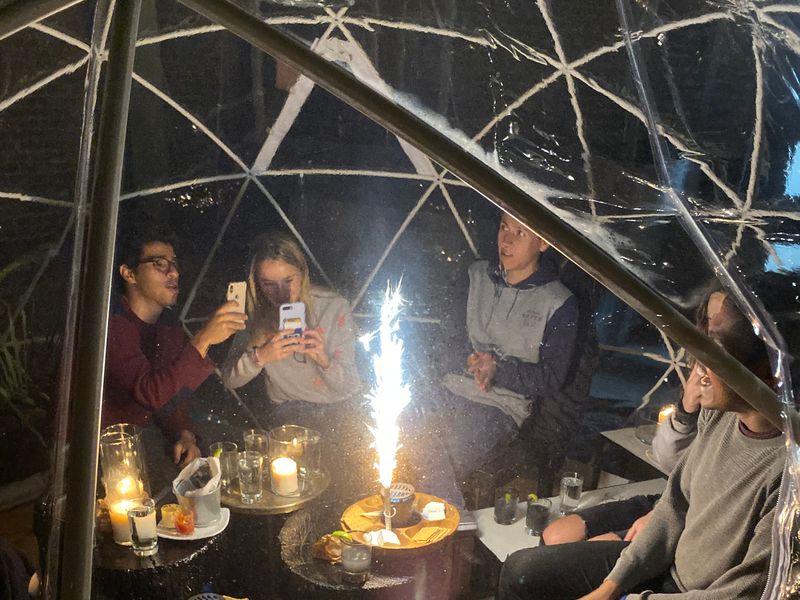 If you would like to book a 116Crown igloo, email igloos@116crown.com and include if you would like to book their dining igloo or one of their lounge igloos: please note that there is a $200 minimum to book an igloo.
Igloos in Milford CT
Dockside Brewery
40 Bridgeport Ave., Milford, CT 06460
203-693-3900
https://www.docksidebrewery.com/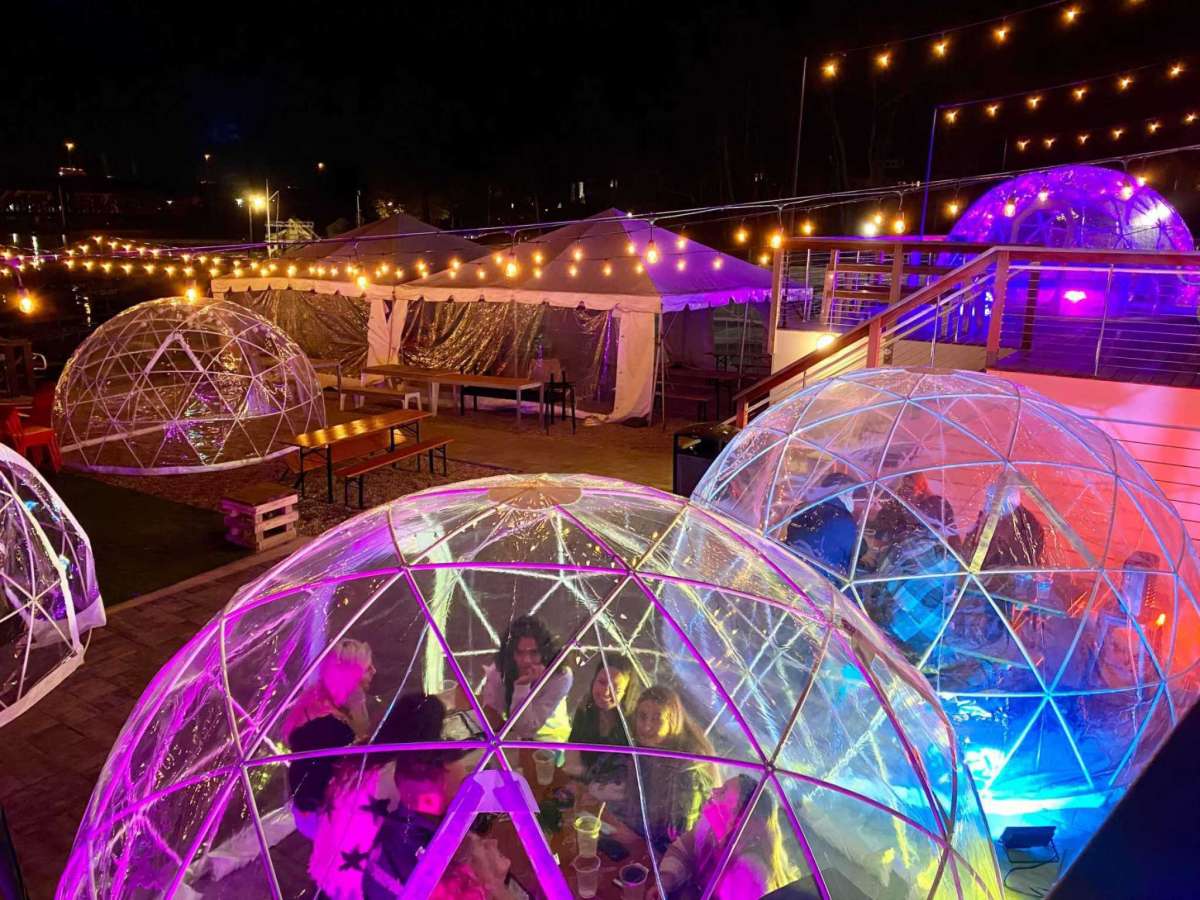 Dockside Brewery is an "igloo village" with each structure boasting a different theme. It's the perfect place to spend wintertime and enjoy some cold ones and hot food!
Igloos in Mystic, CT
Jealous Monk
Olde Misticke Village
27 Coogan Blvd Building #20, Mystic, CT 06355
860-536-6665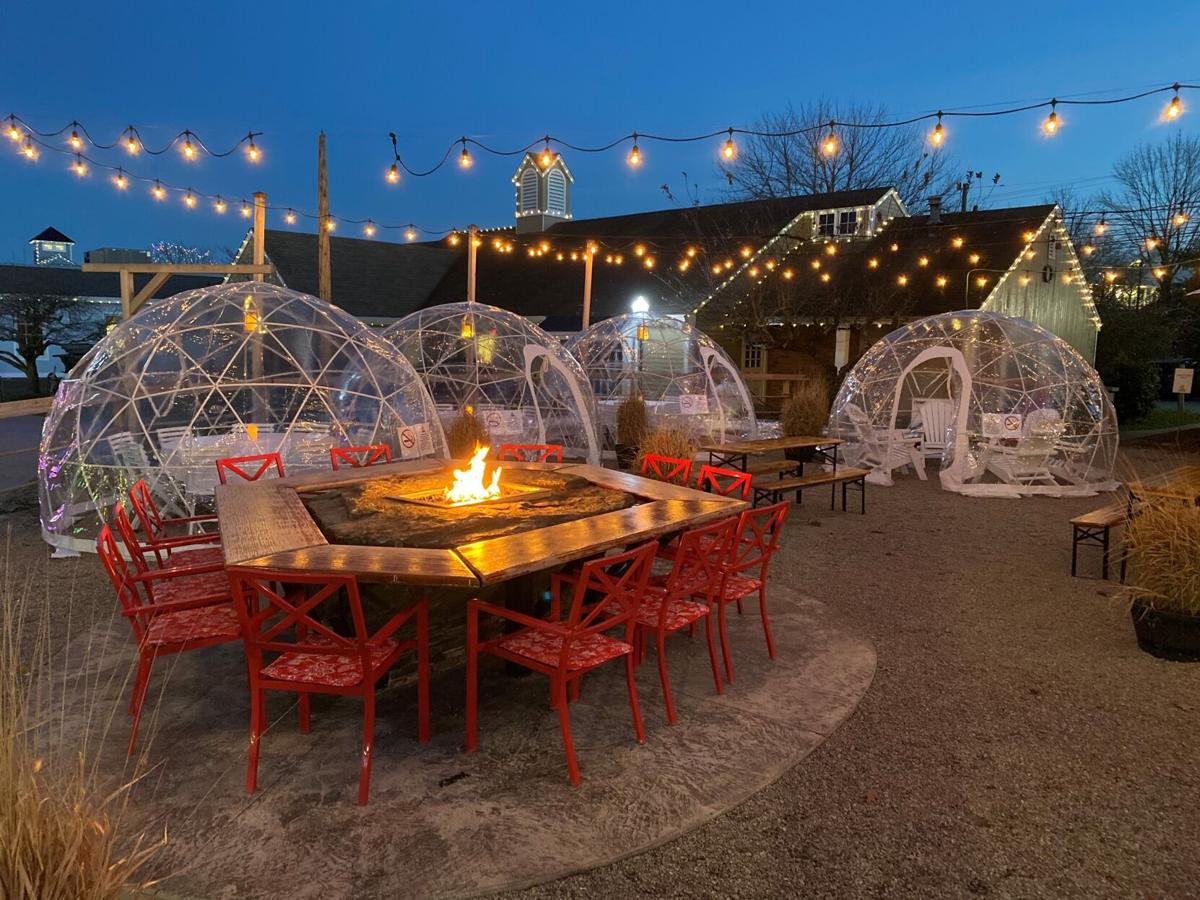 Jealous Monk, the Olde Mistick Village restaurant and beer garden is back with their igloos for winter! dogs are allowed to come too. Seating periods last 90 minutes max, with an eight-guest maximum per seating; there's a minimum spend of $50 weekday lunchtime ($100 weekend) or after 5 p.m., while dinner prices range from $150 and up depending on time you visit during the evening hours.
Igloos in Farmington, CT
Toro Loco Igloos
1274 Farmington Ave, Farmington, CT 06032
(860) 470-5944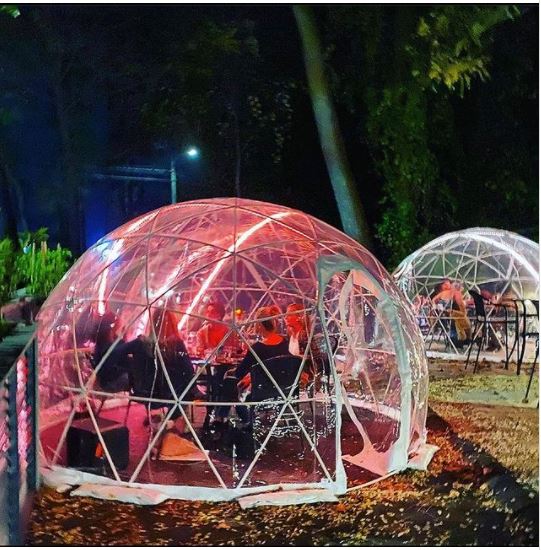 Check out Toro Loco's outdoor igloo experience, where each individual igloo has heaters, Bluetooth speaker, and a chef's tasting menu. $50 per person** . The tasting includes a carafe of margarita and a culinary sampling of everything Toro Loco has to offer. Toro Loco Igloos kindly request minimum of 4-6 p per reservation. For parties of less please contact them directly at the restaurant.  **Tax and gratuity not included**
New York Igloos
Igloos in Islip, NY
Maxwell's "The Igloos"
501 Main St, Islip, NY
631-201-0011
https://www.lessings.com/corporate/restaurants/venue/maxwells/event/the-igloos/16/7352/details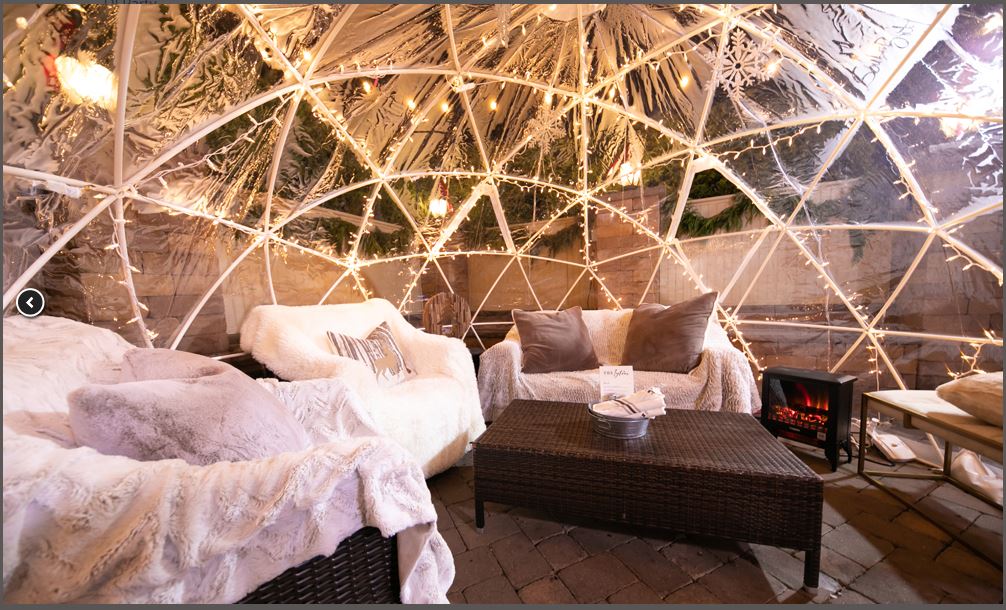 At Maxwell's you get 2 Hours for $150, 8 People Maximum. Includes your first round of drinks with the purchase of food, a special Igloo menu and an exclusive Maxwell's server for the two-hour duration. Maxwell's Igloos are sanitized every 2 hours, after each party exits.
The Oar Steak & Seafood Grille
264 West Ave, Patchogue, NY 11772
(631) 654-8266
https://theoar.com/menu/igloo-menu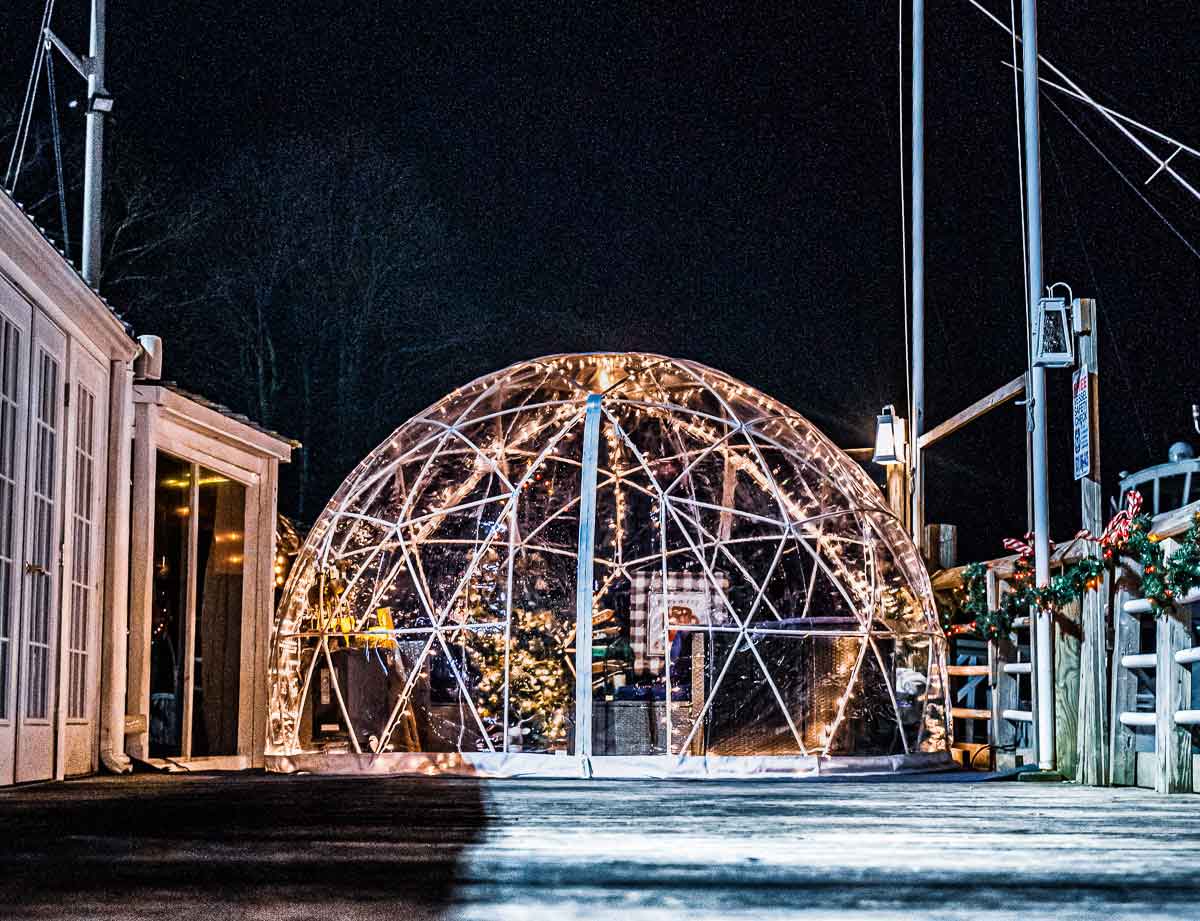 The Oar Steak & Seafood Grille's Full Size Igloo: (Max of 6 people), Tuesday – Thursday $75 Rental Fee, Friday – Sunday $150 Rental Fee. Tiny Igloo: (2 People), Tuesday – Thursday $50 Rental Fee, Friday – Sunday $100 Rental Fee
Price includes 1st round of drinks, Maximum of 2 hours
Rockefeller Center Wine Garden
City Winery New York, Winter Domes
25 11th Ave (At 15th Street)
New York, Ny 10011
646-751-6033
https://citywinery.com/newyork/Online/default.asp?BOparam::WScontent::loadArticle::permalink=newyork-winegarden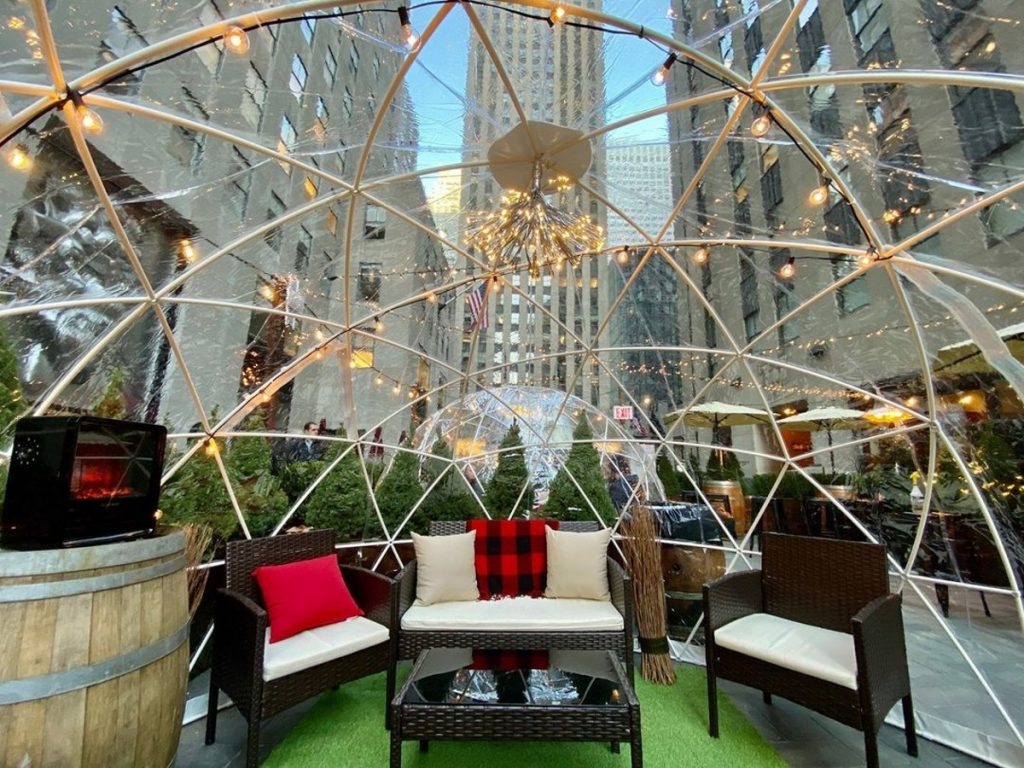 The winter domes return to the City Winery Rockefeller Center wine garden! Enjoy the views of NYC's most iconic plaza while warming up with our mulled wine and spiked cider or a hot chocolate in addition to their signature wines on tap and snacks. All guests are required to show proof of vaccination along with ID. Each dome will be completely sanitized with an electromagnetic fogger and left empty for at least 15 minutes between parties. All reservations are subject to cancellation due to inclement weather. Please reach out to rockcenter@citywinery.com should you have any concerns or questions regarding availability for rescheduling or cancellation.
Dome Reservation Policies for 1pm-3:45pm: 90-minute private use of the space. Minimum spend of $150 + tax, gratuity not included.
Dome Reservation Policies for 4pm Onward: 90-minute private use of the space. Minimum spend of $250 + tax, gratuity not included.
New Hampshire Igloos
Woodstock Inn Brewery
135 Main Street, North Woodstock, NH 03262
(603) 745-3951
https://www.woodstockinnbrewery.com/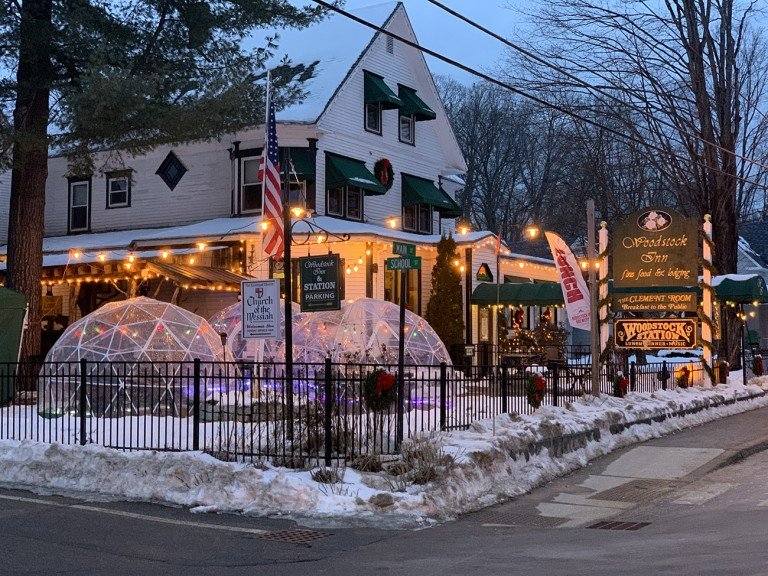 The Woodstock Inn Brewery in North Woodstock, NH has four igloos; three are heated and one is equipped with a fire pit in the middle. Woodstock Inn allows reservations for lunch and dinner in two-hour increments, from 11:30 a.m. until 8:30 p.m. In addition to their dining tab, guests pay $40 for the igloo. The Inn just started a one-hour breakfast option that costs $20 for the igloo reservation.