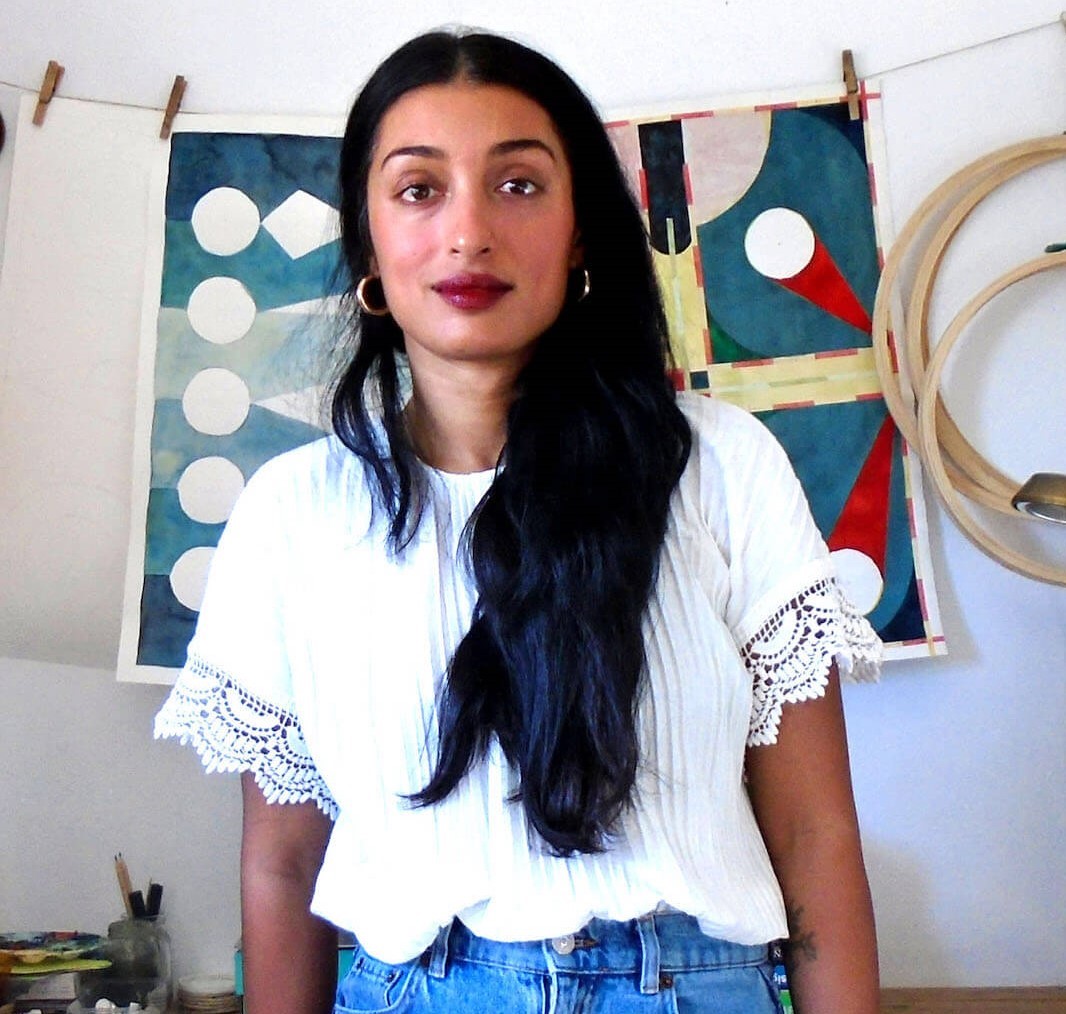 This article originally appeared on The Connoisseur
In celebration of Women's History month, I had the opportunity to interview Rithika Merchant, an acclaimed visual artist born in Mumbai, India. Rithika Merchant is a woman of many accomplishments and was awarded the Vogue India Young Achiever of the Year Award at its Women of the Year Awards 2018. She was also named one of Vogue Magazine's Vogue World 100 Creative Voices.
Rithika received her Bachelor's Degree in Fine Arts from Parsons The New School For Design, in New York. Merchant has had exhibitions throughout the world including several solo exhibitions in India, Spain, Germany, France, and the United States.
Along with her tremendous talent as a painter, Rithika parlays into the world of fashion. Merchant has collaborated with Chloé, the Parisian feminine luxury fashion house on multiple eye-catching collections. Most recently for the "Year of the Pig" Rithika Merchant's delicate artistry is on display in their collaboration for Chloé's Chinese New Year 2019 Limited Edition Capsule Collection. Read on to learn the unique way the Merchant/Chloe partnership began.
CNY Pig, 2018 | 64 x 50 cms | Gouache and Ink on Paper Textile and accessory print collaboration for Chloé Chinese New Year 2019 Limited Edition Capsule Collection
Background
Rithika's Merchant currently splits her time between Barcelona, Spain and Mumbai, India. She grew up in Mumbai and art is something she had as a companion since she was a child.
Q.) Did you always want to be an artist?
A.) I have been artistically inclined from a young age and my parents were always very supportive and encouraging of my need for artistic expression. Both my parents are Doctors and although neither of them are artists, art was always a part of the discussion, they would take me to see art exhibitions in the city and really try to educate me and expose me to art. As a child, I remember drawing and painting with my mother and always being encouraged to express myself creatively. I always knew I wanted to be an artist. It is not really something I can quantify in words, but there really is nothing else I want to do.
Rithika Merchant Arcadia, 2020 Gouache, watercolour and ink on paper 70 x 47.2 inches
Style and Medium
The artist's style comes from the combination of different traditions in India, Europe, and the United States. Merchant's paintings use a mixture of watercolour, gouache, ink, collage elements and organic shapes and colours. This combination creates art pieces that are visually related to our unified pasts, drawing on folk art and 17th-colour century botanical drawings. Rithika appreciates colour and paper that appears to have been exposed to the sun, resembling the way paper and ink looks after its been folded up and stored for a long time.
Q.) Which artists are you most influenced by ?
A.) I am a huge admirer of Indian artists such as Mithu Sen and Nalini Malani. I am also inspired by Walton Ford, Ana Mendieta, Frida Kahlo, Belkis Ayon, Hieronymus Bosch, Hilma af Klint, and Kiki Smith. I also love Indian folk-art traditions such as Kalighat painting, Kalamkari and Mughal miniature paintings.
Rithika Merchant~ Chronos, Kairos, 2020 Embroidery hoop with gouache and ink on paper 17 x 17 inches each Set of 2
Fashion and Social Media
Rithika's collaboration with the French luxury fashion house, Chloé in 2018 occurred totally by chance. Rithika's discovery can be attributed in part to Rithika's presence on social media. Creative Director, Natacha Ramsay-Levi was browsing the Internet selecting images when she came across Rithika's work. Natacha Ramsay-Levi was impressed, feeling that Rithika's paintings would work with the designs she had in mind for Chloe's Spring Summer collection 2018.
After exchanging emails and Skype calls, Rithika was invited to Chloe's studio in Paris to work with them on the Spring Summer collection. Rithika stayed for 2 weeks working with Natacha and her team placing her bold and graphic drawings on the apparel. The prints were unique, brimming with mystical, botanical imagery and spiritual references. This was the beginning of many more successful art meets fashion collaborations between Merchant and Chloe.
Floral 2 | 64 x 50 cms | Gouache and Ink on Paper Print collaboration for Chloé High Summer18
Q.) What advice would you give to your younger self ?
A.) To just try and enjoy the process as much as I can without worrying too much about the outcome – especially if it involves things I can't control. I have always been an emotional and angsty person, and I can get inside my own head and internalise things a lot. even today, I have lots of time alone in my studio to think and often overthink things. I'm still trying to learn to let go a bit and worry less about the little things.
Rithika Merchant Galactic Tides, 2020
Galactic Tides: Mixed media collage with gouache, ink, graphite & marker, jute rope & mother of pearl buttons on paper 25.5 x 19.6 inches
Latest Exhibition
Merchant's latest solo exhibition is Birth of a New World at TARQ Gallery following the exhibition Where the Water Takes Us in 2017. In her new set of artworks composed of watercolours and collages, the artist focuses on the contemporary world. Her magical creatures, nature-inspired components and brilliant colour palette will leave you fascinated and engaged in the stories she sets to tell.
Q.) What inspires you to paint?
A.) The splendour of nature, grappling with the challenges of the human condition and the internal need and desire to create.
Rithika Merchant Harvest, A Land of Plenty, 2020
Harvest, A Land of Plenty, 2020 Mixed media collage with gouache, ink and magazine cut-outs on paper 14.1 x 38.9 inches each Set of 2
Saving the world with art
With nature continuing to play a critical role in her works, Rithika tempts us to ask the all too familiar question – what is consider worthy of saving in this world and what do we let go? With the world rapidly evolving before us, is there such a thing as a utopia or are we going after the impervious? How do we strike a balance?
Q.) What's the best thing about being an artist?
A.) It is a way for me to convey certain ideas and emotions – I am much better at expressing things visually than verbally. My work is everything to me. Art is something I have had with me as a companion since I was a child – it's my catharsis, my relaxation, my way of making sense of the world. It's my way of life and the thing I love to do most.
Rithika Merchant Return to Stardust, 2020 Gouache, watercolour and ink on paper 59 x 35.4 inches
Q.) If you had to choose one masterpiece from "The Connoisseur" collection, then which one would it be and why?
A.) There's so much variety on the website, I wouldn't know where to begin!
The Connoisseur – online art gallery
The origin of Indian art can be traced to prehistoric settlements in the 3rd millennium BC however it is yet to receive recognition in the eyes of the world. 'The Connoisseur' aims to facilitate masterpieces from Indian artists and introduce their work to the audience in a way that resonates with their creativity through their carefully crafted platform. Peruse 'The Connoisseur' website for a wide range of magnificent artworks available for all genres and budgets.

Rithika Merchant Website: http://www.rithikamerchant.com/ IG: https://www.instagram.com/rithikamerchant/
For all enquiries @tarqmumbai and @galerielj
Courtesy: Courtesy of Rithika Merchant and TARQ
Copyright: Copyright Rithika Merchant, 2021